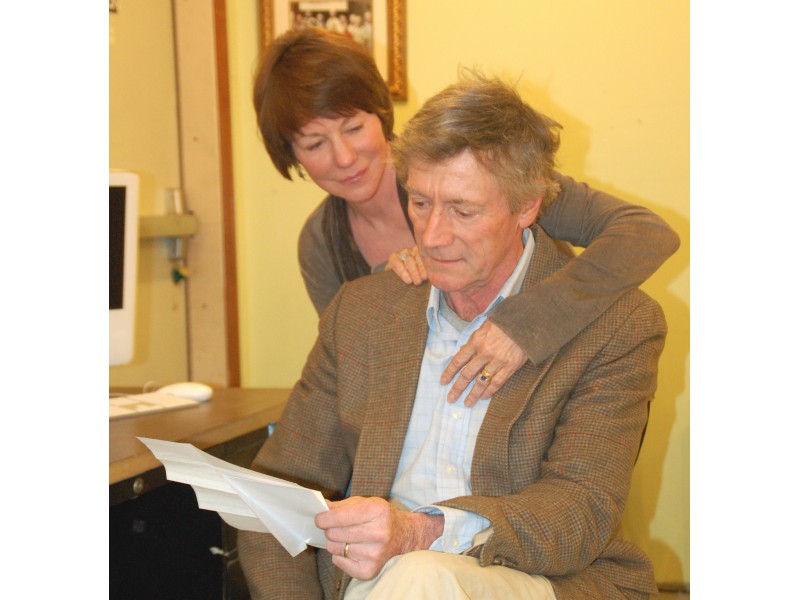 LOVE LETTERS
produced by the Community Players of Concord, NH
directed by Wayland Bunnell
Starring Kathy Pohlman Somssich and Kevin Owen Gardner, LOVE LETTERS traces the twin arcs of the lives of Melissa Gardner and Andrew Makepeace Ladd II as each addresses the challenges of their radically disparate lives, linked together by the exchange of almost fifty years' worth of letters, notes and cards.
LOVE LETTERS isn't a trad

itional play about love or the evolution of two characters as they move through their lives. There's no scenery to denote setting or the passage of time. No elaborate costumes. No music or animated light plot. All you get is two actors seated at a table, reading from scripts.
But what a reading it is. Somssich and Gardner distill LOVE LETTERS to its essence in their interpretations of Melissa and Andrew, manifesting a rich palette of emotions as they take us through the highs and lows of each character's existence, painting an exquisitely rendered portrait in the words they lift from the page and share with an increasingly rapt audience.
It's a gripping story, and, like real life, full of moments that run the scale between poignancy and humor. Somssich and Gardner are perfectly matched as a couple who manage to keep in touch through five decades of all of the busy little things which consume the waking lives of humans, and who, through their letters, manage to keep the link forged between them substantial and enduring, even when disagreement and tragedy chip away at it.
By all means, go, and be captured by this lovely, evocative work, brought to vivid life by two superb actors. What a treat it is.
LOVE LETTERS runs May 22 & 23 at the Concord City Auditorium, 2 Prince St., Concord, NH. Visit the CPC website for tickets and information.